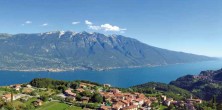 Tremosine Welcome Card

On arrival you will receive our free "Tremosine Welcome Card", with its many discounts and special offers.
The "Tremosine Welcome Card" provides the following free services, discounts and special offers:
A free weekly guided excursion to discover our area, with a chance to taste some of our local specialties;
A reduced entrance ticket to the Gardaland amusement park;
Discounts on certain sports/leisure activities;
Discounts at food & wine events organised by the Pro Loco Association;
Free entry to our prize draw for a 1 week holiday for two people in a hotel in Tremosine of your choice!
…and much more besides….
The Card is personal and is valid for the entire family for the length of your stay in Tremosine. It must carry the number of family members, the validity period and the ink stamp of the hotel you are staying at.